Are 22 year olds like "Kristen" really able to maintain mental health and be prostitutes?
CNN Prime News covers the Eliot Spitzer scandal and the outing of Ashley Alexandra Dupre
March 13, 2008

The World's Oldest Profession
The Brian Lehrer Show on WNYC
Emily Bazelon, senior editor at Slate and Audacia Ray, former sex worker and blogger at Waking Vixen, discuss why exactly prostitution is illegal. A reaction to the Eliot Spitzer scandal.
March 11, 2008

Art That Blurs Lines, Draws Blood

Velvetpark Magazine
by Jenny Aisenberg
November 24, 2007
But there's the rub– what feels good is different for everyone. And who the fuck am I to say that being hung by hooks through your flesh can't make you feel good, if you say it does? The woman in this image, head bowed with a strong light source pouring down on her shoulders from above, looks at once serene and enraptured in an almost religious ecstasy (it's easy to forget, for those of us who don't get off on pain, that it involves a substantial release of endorphins, resulting in a specific and very real kind of natural high). Does it work as art? Hell yeah. These photos are gorgeous. And if they're provocative and unsettling, too, then that's as it should be.
Click here to read the full review.
Suicide Girls, Grown Up

New York Press
by Gerry Visco
November 7, 2007
Many of the photos depict taboo activities enjoyed consensually. The bound woman in one pic looks like she's had a rough night, but it's her own fantasy she staged herself. When critics label such images "self-destructive," Vendetta replies, "It's more oppressive not to live out your fantasy."
Click here
to read the full article.
Eyes Wide Open

The Oprah Magazine
by Violet Blue
July 2007
Violet Blue's Pick: The Bi Apple: Outspoken sex blogger and activist Audacia Ray makes her directing debut with a film about one woman's bisexual exploration. "What sets this film apart is that it's got an African-American lead, which you almost never see in porn."
Naked on the Internet: Review

Bitch Magazine
by Tammy Oler
Summer 2007
Audacia Ray's Naked on the Internet confirms what we already know: Sex is ubiquitous online. However, it also offers something delightfully new to the conversation about the digital sexual revolution: a look at how sisters are doing it for themselves. Ray, an advocate for sex workers' rights, focuses on how women use the web as a means of sexual expression, as a way to connect with others for potential relationships, and to make a living in the sex industry.
Click here to see the full review.
Naked on the Internet
Geek Entertainment Televsion
interview with Violet Blue
July 16, 2007


Violet Blue is back with an intimate interview with Audacia Ray, a sex blogger, virgin author and nerd of the highest order. Audacia just released her first book titled Naked on the Internet: Hookups, Downloads and Cashing in on Internet Sexploration.
Click here to watch the video.
An Interview with Audacia Ray

Bookslut
by Joanne McNeil
July 9, 2007
As Audacia Ray explains in her new book, Naked on the Internet: Hookups, Downloads, and Cashing in on Sexploration, alt porn is no "cash cow," but it further individualizes our sexual exploration. With clever chapter titles like "Girls Gone Wired" and "Our Bodies, Our Broadbands," Ray examines how online activity impacts our sexuality. Web cams, Craig's List Casual Encounters, and "teledildonics" offer entirely new ways to get off, but anonymity can never be taken for granted.
Audacia Ray is the Merlin Mann of the sex bloggers. She's the executive editor of $pread magazine, written for and by sex workers, and contributes to Fleshbot, as well as maintaining her personal website, Waking Vixen. Plus, she just graduated with a MA in American Studies from Columbia University and, earlier this year, released the video "Bi Apple," which she wrote and directed.
Over Japanese food, before her reading in Boston, I asked her some questions about the book.
Click here to read the complete interview.
Audacia Ray: Waking Vixen: Prince Charming Need Not Apply

San Francisco Gate
by Violet Blue
June 28, 2007
Sex writing has grown, and grown up on the Internet, to the point where there are hundreds and hundreds of sex blogs. Maybe thousands. Not even porn blogs or porny splogs, but actual, explicit, literary sex blogs where people write about their fantasies, experiences and philosophies of sex. Name your flavor, down to the most overly specific fetish (nose bondage, anyone?) and there are at least a dozen bloggers showing and telling (but mostly telling) stories about their experiences, with communities of commenters and sidebars of blog-rolled sex-blog pals. No A-list sex-blog lineup would be complete without putting New York fetish model, sex worker and sex educator Audacia ("Dacia" to her friends) Ray (wakingvixen.com) somewhere near the top of the heap.
Ray's start in the world of sex began when she became a researcher for the New York Museum of Sex. A gifted, articulate and fiercely honest writer unafraid of writing about difficult and highly personal topics, she started Waking Vixen ("Audacia Ray is no sleeping beauty") back in 2004. Her blog became one of the more legendary, must-click stops in the sex blogosphere, and now she's the editor of feminist sex-worker magazine $pread, a contributor to several blogs, a porn director and an author whose new book "Naked on the Internet: Hookups, Downloads and Cashing in on Internet Sexploration" is a groundbreaking report on women, sex and the Internet.
Click here to read the full article and interview.
Audacia Ray spreads the gospel of feminist Web porn

Independent Weekly (Chapel Hill, NC)
by Megan Stein
June 20, 2007
Ray's book comes at a ripe time when more women than ever are technologically tapping into their sexuality. Web sites like www.forthegirls.com now exist, offering straight women a collection of the porn and nude modeling they want to see. Women are picking up where stars like Candida Royalle and Veronica Hart left off in the '80s, producing porn and independent Web sites, which, Ray writes, often are "popular enough that many of the women who run them are able to make a living doing nothing but working on their sites."
Everywhere Ray goes, she meets women using the Internet as a means of expressing their sexuality, and she hopes to help those numbers grow. Naked on the Internet, she says, is a look at the "ways women connect with themselves and others to explore the Internet as a communication and lifestyle tool as well as a valuable, though sometimes risky, sexual space."
Click here to read the full article.
Dungeon Love Art?

NY Press
by Julia Morton
June 8, 2007
Hanging your art in a dungeon may not be a goal for most artists, but for the 15 current and former sex workers whose photos, drawings and paintings are featured in the Sex Worker Visions II show, the dungeon-turned-art gallery allows them to expose their secret lives in context.
"The history of Western art, at least when it comes to the female form, was built on the backs of prostitutes who doubled as artists' models and muses," curator Audacia Ray explains. Thanks to this exhibition, hosted by $pread magazine, a sex industry publication, these silent voices can now be heard. A few participants are well known, such as contemporary artist Zak Smith and porn-star-turned PhD. sexologist, Annie Sprinkle, but others are art-world virgins.
Click here to read the full article.
Getting Naked on the Internet is Risky, but Rewarding

Wired Online
by Regina Lynn
June 1, 2007
Naked on the Internet (Seal Press) is a serious look at how women are incorporating the internet into sex, and while the occasional wry comment and the deft use of individual stories leavens the academic tone, they don't undermine the gravity of the work.
Most interesting to me is how Ray includes sex workers as legitimate voices in the changing realm of female sexuality. The internet itself has changed sex work significantly, but it has also brought more women into the field, many of whom don't think of themselves as "sex workers." If you model fetishy outfits once or twice a year for cash to spend on a new tattoo, are you a sex worker? If you dance naked on webcam in an adult community but don't get paid for it, are you a sex worker, an erotic artist or both?
Click here to read the full article.
Sex Workers' Art on Display

Metro
by Joy Bergmann
April 30, 2007
SOHO. On a rainy Sunday afternoon recently, a dozen young women gathered to transform the tools of their sex work trade into works of art. Over cupcakes and strawberries, they swapped stories as they nailed, glue-gunned, painted, pierced, googly-eyed and gashed variously sized toys. Beads scattered to the floor. "We should get some slave to clean that up," said one dominatrix, laughing. Their handiwork will be on display as part of Sex Worker Visions II, an annual art show by sex workers to benefit $pread magazine and the artists.
Click here to read the full article.
The Bi Apple

NY Press
by Stephanie Pekarsky
February 28, 2007
Deliberately lacking in much of the glitz and artificiality of the mainstream porn world, the release party for Audacia Ray's porn directorial debut, The Bi Apple—which includes sex research, tantric explorers and hot bisexual action—is a celebration of the pleasures of the flesh. Click here to see the full article.
Nerve Sex Advice From: NYC Pornographers

Featuring Audacia Ray, Candida Royalle, and Joe Gallant, answering questions such as "What is the good porn out there?" and "What's the deal with ass-to-mouth?" Click here to see the video.
Carnal Knowledge: Talking Labor with Sex Work Magazine $pread

Bitch Magazine
by Debbie Rasmussen
Fall 2006
Most feminist dialogues about sex work sounds more like monologues; defensiveness, mischaracterizations, and willful ignorance abound, making casualties of complexity and nuance. Until recently, few publications -feminist or otherwise- have tried to grapple with these issues and move the debate forward. Enter $pread, which published its first issue in the spring of 2005 with the subtitle "illuminating the sex industry."
An Old Profession That's New to Doing Taxes
New York Times
by Corey Kilgannon
April 5, 2006

The tax outreach program "helps sex workers who don't know they can and should file taxes," said Audacia Ray, 26, of Brooklyn, an executive editor at Spread magazine, a quarterly publication based in New York, who also reviews pornography for a Web site — and pays her taxes, she said."A lot of prostitutes are making just enough to get by and can qualify for certain tax credits, so filing can help them as well as make them feel like part of society," she said.
Click HERE to read the article.
Audacia Ray, Writer, Sex Worker Rights Advocate
Gothamist.com
interview by Rachel Kramer Bussel
March 28, 2006
Feminist sex worker rights advocate Audacia Ray is part of a burgeoning movement of young women (and some men) looking to reclaim words like hooker, prostitute, and whore that were formerly used as epithets. She proudly takes off her clothes to reveal her ringlets of brown hair, glasses … and often not much else. But this naked girl uses her brain as much as her bod, whether it's working as Executive Editor of $pread magazine, reviewing porn sites for Sugarclick.com, getting her master's degree, or blogging at WakingVixen.com. She's also modeled—nude, in mud, in boxing gloves, in paint and on the New York City subway—for a host of alt porn sites, earning her the ranking of Fleshbot's #3 Hottie of the Year for 2005.On top of her already full plate, she's curating an exhibit of sex worker art debuting this Wednesday called Sex Worker Visions, helping to organize the conference Sex Work Matters: Beyond Divides, and booking local sex bloggers for next week's Perverts Saloon. The silicone-free model, writer, organizer and activist emailed Gothamist about studying sexuality in Amsterdam, why she loves getting naked for her favorite photographers, running a magazine, being taken seriously as a sex worker and academic, and what makes for good porn.
Click here for the full interview.
Tired of the Private Show: Taking sex work out of the shadows and into public consciousness
NYC24.org
March 27, 2006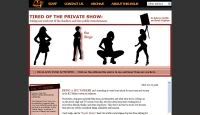 "When people tell me that sex workers should remain behind closed doors I basically tell them that is bullshit," said [Audacia] Ray. "Culture, society and the legal world are set up to shame sex workers. I think it's really important that sex workers come out of their own volition and combat the way they are portrayed in the media."
[Annie] Oakley agrees, noting that the porn industry alone makes more money than professional baseball, hockey and football combined. "Americans consume porn and sex voraciously," she said. "But people are very invested in not knowing anything about the people who are servicing them. And it's that otherness that allows the abuses that happen in the sex industry to go on."
Click here for the full story and two videos that feature me, the Blogs and the Magazine.
New York Show to Feature Porn Star Art
Adult Video News
March 23, 2006

New York indy auteur and VCA contract director, Joe Gallant, along with adult performer April Flores are among the industry members whose art work will be featured in Sex Worker Visions exhibit at the LGBT Community Center and David Bohnett Cyber Center, 208 W. 13th St. in Manhattan.
The event, scheduled to run from next Wednesday to May 20, will feature a number of industry members' works including Gallant's fresh enema painting, made in a collaboration with one of his starlets.
Click HERE to read the article, about a show I curated.
$pread Magazine
SexTV
Episode 8-13
$pread Magazine is the only magazine by and for sex workers of all genders, sexualities, and backgrounds, across the globe. Including writing by professionals in all areas of the sex industry, with a focus on personal experience and political insights, the magazine aims to provide a forum for marginalized voices and a sense of community and support among sex workers, as well as a balanced and honest view of the sex industry.
Click here for a video preview of the story.
What Are You Working On? Interview with Audacia Ray
Mark Pritchard's Too Beautiful
March 4, 2006
What led you to this project?
The organizers of Sex Work Matters asked $pread to help them out by throwing a party on March 29th to welcome conference participants and to raise the profile of the event a bit. $pread has thrown a party for each issue we've released — its part of how we do fundraising to publish the magazine — including a fashion show this past November and a Sex Worker Olympics in January, which included a challenge where participants had to wear stilettos through an obstacle course while not spilling a very full martini glass. For this event, however, we wanted to do something a little less raucous, where people could actually talk to each other, and we came up with the idea for the exhibition, Sex Worker Visions. The show will feature art by and about people who work in the sex industry.
Click here for the full interview.
Audacia Ray's Comprehensive Safer Sex/Safer Sex for Sluts Workshops
NotForTourists.com
by Stephanie Pekarsky
February 16, 2006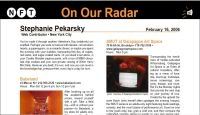 Whether you're single or taken, sex educator Audacia Ray can teach you a thing or two. With her extensive background in all matters sexual (she is a sex worker rights advocate, alternative model, and the executive editor of $pread), she has developed two workshops for those delving in to the world of sexual exploration. Before masterminding a night of romance, flirtation, and mindblowing sex, consider attending either the Comprehensive Safer Sex or the Safer Sex for Sluts workshop. Taking into account monogamy, open relationships, and other alternative sexual practices, Ray teaches the down and dirty facts surrounding all sexually transmitted infections, and then leads disucssions of safer sex strategies, stressing the fact that everyone has a different comfort level when it comes to the risks they are willing to take in the name of pleasure. These workshops are reminiscent of our old high school sex ed classes, but who was paying attention back then anyway? Attend this much-needed refresher course and leave with a goody bag of condoms and a determination to have safer sex. Lots of it.
Click HERE for this and other sexy reviews.
Miss Meep interviews Audacia Ray
Bella Vendetta
December 29, 2005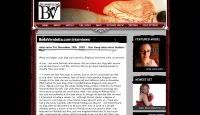 How did it feel to go from being one on end of things (editing porn, working at the Museum of Sex) to actually being a sex worker, or was it more of a continuum? To use a word that some may think is wildly inappropriate for this case – it felt natural. In the late eighteenth century and throughout the nineteenth century as novels became more widely read, there was a continuous debate about the degenerative effects novel-reading would have on the minds and morals of young women – I like to joke that this is exactly what happened to me. I got the knowledge, the mind-expansion and the degenerate viewpoint from books and people I met along the way, got the curiosity bug, and ended up a sex worker and porn performer. The horrors!
Click here for the full interview.
An Interview With Waking Vixen's Audacia Ray
Goodie Bag TV
by Kirby Ferguson
November 22, 2005


In addition to her roles as a teacher, model, and sex worker activist, Audacia Ray is the dynamo behind the superb sex blog Waking Vixen, where she regularly posts her literate and increasingly expansive thoughts on sex and sexuality. The site�s links serve as an excellent primer on the world of alt porn, and if you just want some juicy erotica, take a peak in the archives.
Click HERE for the full interview.
The Cogs of Porn

Photographs by Brad Nelson
Time Out New York
October 6-12, 2005
They work hard for the money: writing, shooting, performing and promoting. Meet the folks who help keep New York's smut factory in business.
"I'm the news and shorts editor of $pread magazine, a new sex-workers'-rights magazine. I write a blog at WakingVixen.com and do porn reviews, erotica and personal essays for various publications. I also get naked for fine art and porn projects, am a professional foot and leg fetishist and teach HIV prevention workshops."
Click HERE to read the complete article.
Waking Vixen
Jane's Guide
Review by Sara
May 30, 2005

Audacia Ray is no Sleeping Beauty. That's her tag line, and it is perfect. This poly-slut sex activist model-writer makes her home in Brooklyn, NY. Her writing is fresh, real, and very, very hot. She seems to be as at home describing anal masturbation, female ejaculation, her new boyfriend's first foray into a sex party, or her wardrobe dilemmas. For extras, there are fabulous photos of our heroine scattered throughout the blog, and links to websites that are actually meaningful to her. This blog is definitely a keeper – Audacia is that rare mix of bright, sexy and interesting that definitely makes me damp! Click here to check out Jane's Guide
Meet Audacia Ray
Fleshbot
May 18, 2005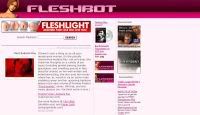 If there's such a thing as an alt porn renaissance woman, it's the proudly silicone-free Audacia Ray: not only does she share her thoughts on a variety of sex topics (including genital piercing, female ejaculation, and wrestling around in fake blood for charity) on her well-written and entertaining blog, she also puts her money where her, er, mouth is via an active nude modeling career and her upcoming hardcore debut in the next volume of Profane Pirate's "Psychocandy" series. (All that, and she wears glasses too. We think we're in love.) Click here to read the Fleshbot original